User management
On the User management page of your Nextcloud Web UI you can:
Create new users

View all of your users in a single scrolling window

Filter users by group

See what groups they belong to

Edit their full names and passwords

See their data storage locations

View and set quotas

Create and edit their email addresses

Send an automatic email notification to new users

Disable and Enable users

Delete them with a single click
The default view displays basic information about your users.

The Group filters on the left sidebar lets you quickly filter users by their group memberships, and create new groups.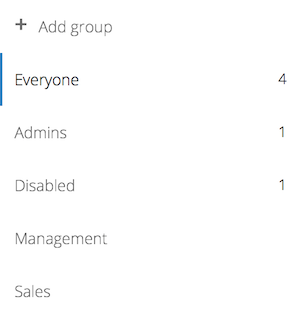 Click the gear icon on the lower left sidebar to set a default storage quota, and to display additional fields: Show storage location, Show last log in, Show user backend, Send email to new users, and Show email address.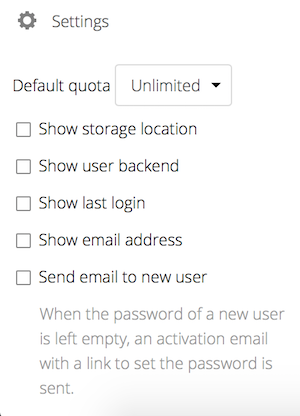 User accounts have the following properties:
Login Name (Username)

The unique ID of a Nextcloud user, and it cannot be changed.

Full Name

The user's display name that appears on file shares, the Nextcloud Web interface, and emails. Admins and users may change the Full Name anytime. If the Full Name is not set it defaults to the login name.

Password

The admin sets the new user's first password. Both the user and the admin can change the user's password at anytime.

Groups

You may create groups, and assign group memberships to users. By default new users are not assigned to any groups.

Group Admin

Group admins are granted administrative privileges on specific groups, and can add and remove users from their groups.

Quota

The maximum disk space assigned to each user. Any user that exceeds the quota cannot upload or sync data. You have the the option to include external storage in user quotas.