Email
Nextcloud is capable of sending password reset emails, notifying users of new file shares, changes in files, and activity notifications. Your users configure which notifications they want to receive on their Personal pages.
Nextcloud does not contain a full email server, but rather connects to your existing mail server. You must have a functioning mail server for Nextcloud to be able to send emails. You may have a mail server on the same machine as Nextcloud, or it may be a remote server.
To access the setup page below log in with an admin account. Click on your avatar in the top right, and then click Settings. On the left side under Administration and click Basic settings.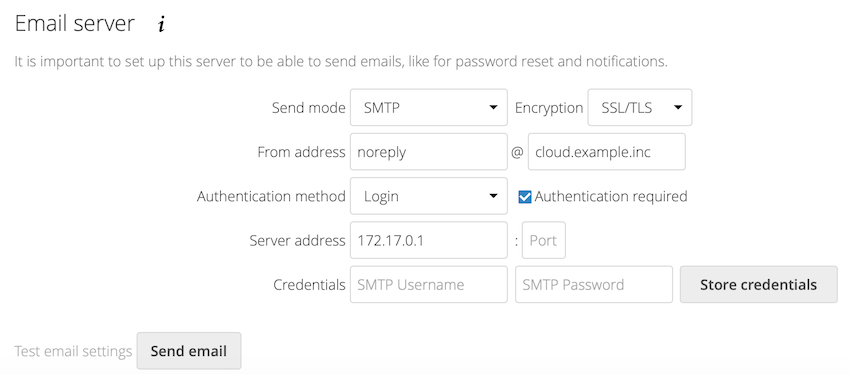 With the wizard, connecting Nextcloud to your mail server is fast and easy. The wizard fills in the values in config/config.php, so you may use either or both as you prefer.
The Nextcloud Email wizard supports three types of mail server connections: SMTP, qmail, and Sendmail. Use the SMTP configurator for a remote server or Sendmail when your mail server is on the same machine as Nextcloud.
Note
The Sendmail option refers to the Sendmail SMTP server and any drop-in Sendmail replacement such as Postfix, Exim, or Courier. All of these include a sendmail binary, and are freely-interchangeable.