Utilisation de l'application Contacts
L'application Contact n'est pas active par défaut dans Nextcloud latest et doit être installée séparément à partir du magasin d'applications
L'application Contacts Nextcloud est similaire à d'autres applications mobiles de contacts, mais avec plus de fonctionnalités. Découvrons quelques fonctionnalités de base qui vont vous aider à gérer votre carnet d'adresses dans l'application.
Below, you will learn how to add contacts, edit or remove contacts, upload a contact picture and manage your address books.
Ajouter des contacts
When you first access the Contacts app, the system address book containing all users on the instance you are allowed to see, plus an empty default address book becomes available: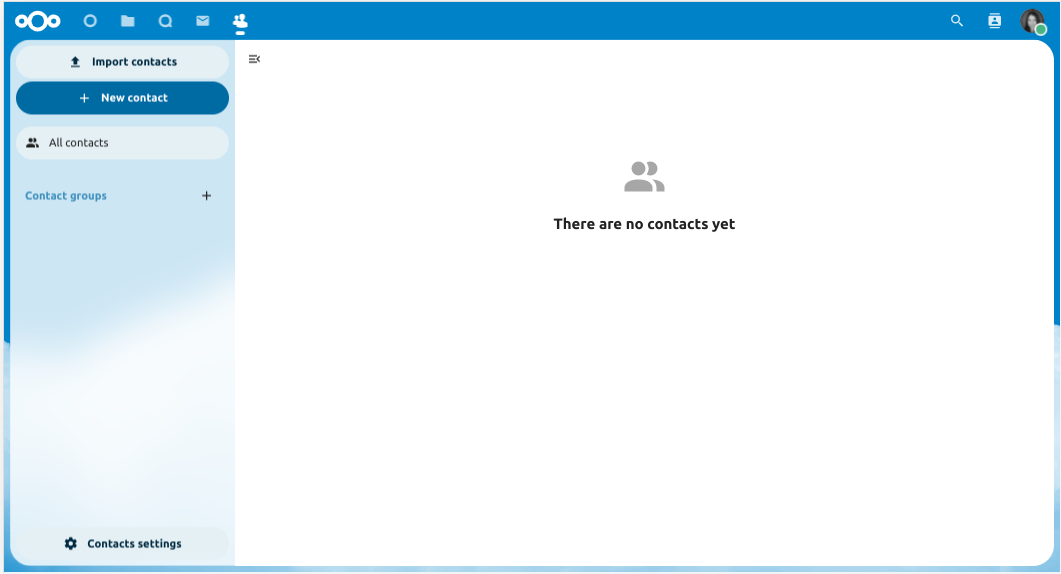 Pour ajouter des contacts dans votre carnet d'adresses, vous pouvez utiliser l'une de ces méthodes :
Importer des contacts en utilisant un fichier VCF/vCard (Virtual Contact File)

Ajouter des contacts manuellement
Le moyen le plus rapide d'ajouter un contact est en utilisant un fichier VCF/vCard (Virtual Contact File).
Ajouter et gérer les carnet d'adresses
Cliquez sur le bouton « Paramètres » (avec une icône de roue dentée) en bas de la barre latérale gauche. Vous y verrez l'ensemble de vos carnets d'adresses (avec des options : téléchargement, lien, partage), ainsi qu'un champ texte permettant l'ajout d'un nouveau carnet d'adresses, en spécifiant son nom :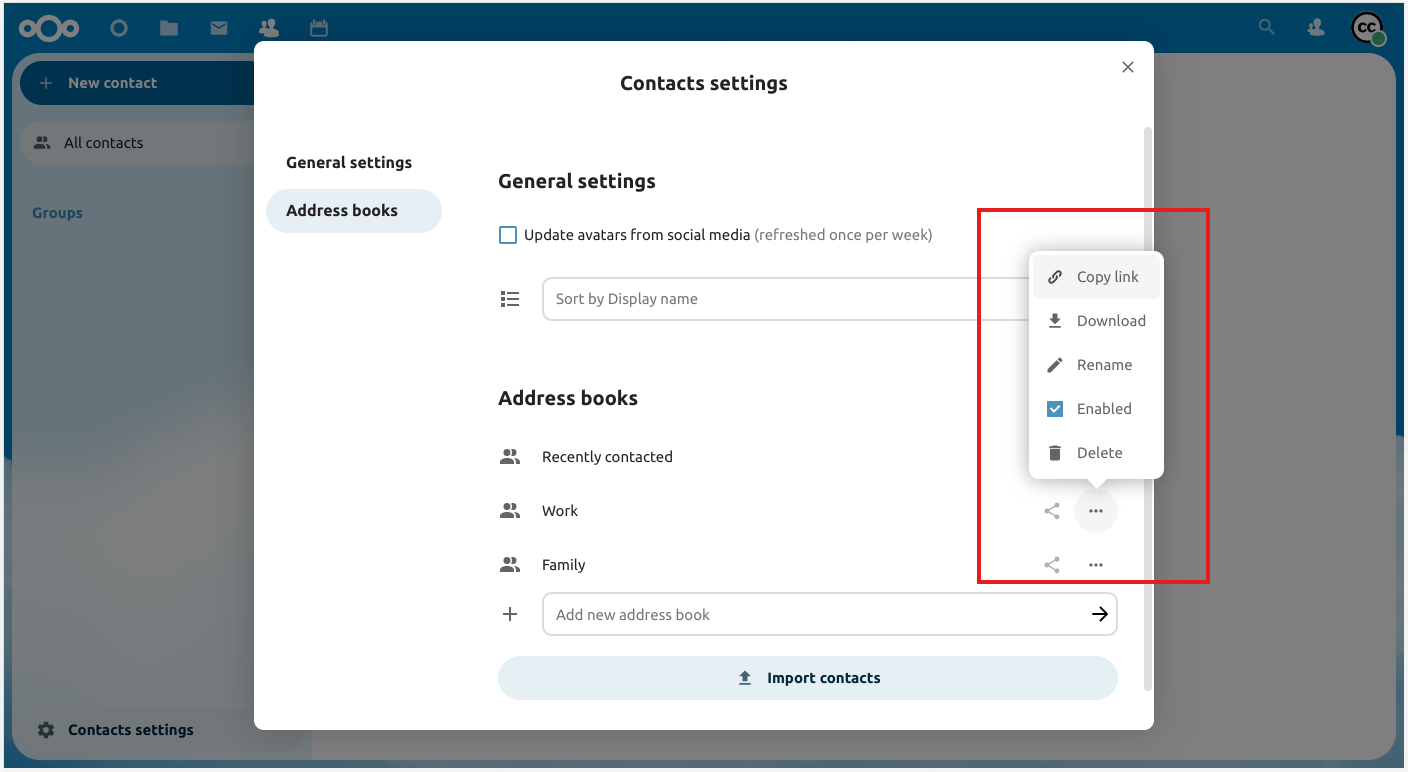 The Contacts settings is also where you can share, export and delete addressbooks. You will find the CardDAV URLs there.
Pour plus de détails sur la synchronisation des carnets d'adresses avec iOS, macOS, Thunderbird, et d'autres clients CardDAV, consultez la page Groupware.
Circles
Informal collaboration takes place within organizations: an event to organize for a few weeks, a short ideation session between members from differents entities, workshops, a place to joke around and support team building, or simply in very organic organizations where formal structure is kept to a minimum.
For all these reasons, Nextcloud supports Circles, a feature embedded in the Contacts app, where every user is able to create its own circle, a user-defined aggregate of accounts. Circles can be used later on to share files and folders, added to Talk conversations, like a regular group.