Usare l'app Contatti
L'applicazione Contatti non è abilitata in modo predefinito in Nextcloud latest e deve essere installata separatamente dal nostro App Store.
L'applicazione Contatti di Nextcloud è simile ad altre applicazioni mobili di contatti, ma con maggiori funzionalità. Esaminiamo le funzionalità di base che ti aiuteranno a mantenere la tua rubrica nell'applicazione.
Below, you will learn how to add contacts, edit or remove contacts, upload a contact picture and manage your address books.
Aggiungere contatti
When you first access the Contacts app, the system address book containing all users on the instance you are allowed to see, plus an empty default address book becomes available: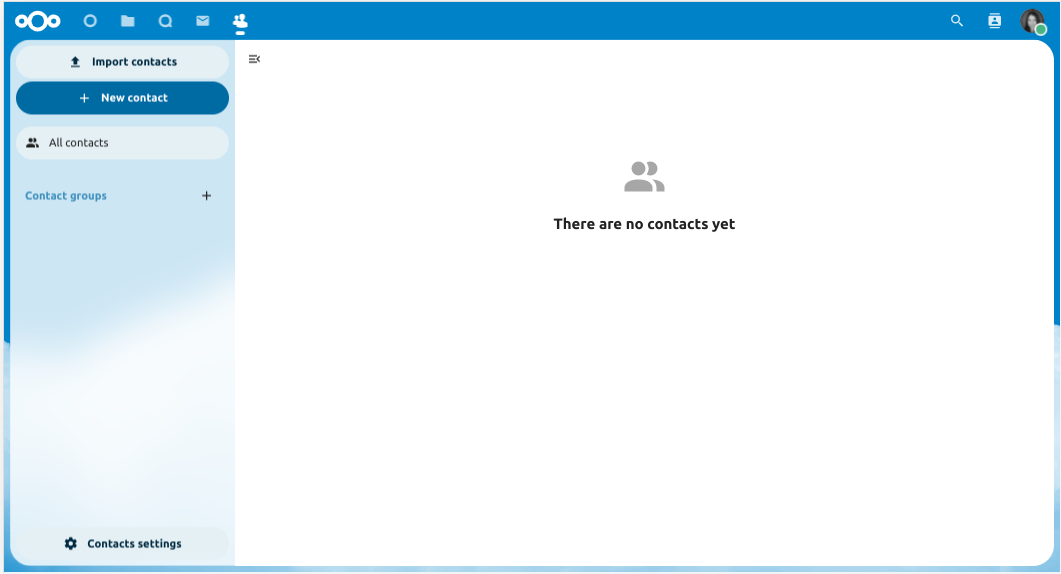 Per aggiungere contatti nella tua rubrica, puoi usare uno dei seguenti metodi:
Importa contatti usando un file Virtual Contact File (VCF/vCard)

Aggiungere contatti manualmente
Il modo più veloce per aggiungere un contatto è usare un file Virtual Contact File (VCF/vCard).
Aggiungere e gestire rubriche
Facendo clic sul pulsante «Impostazioni» (ingranaggio) in basso nella barra laterale sinistra si accede alle impostazioni dell'applicazione Contatti. Questo campo mostra tutte le rubriche disponibili, certe opzioni per ogni rubrica, e consente di creare nuove rubriche, semplicemente specificando il nome di una rubrica: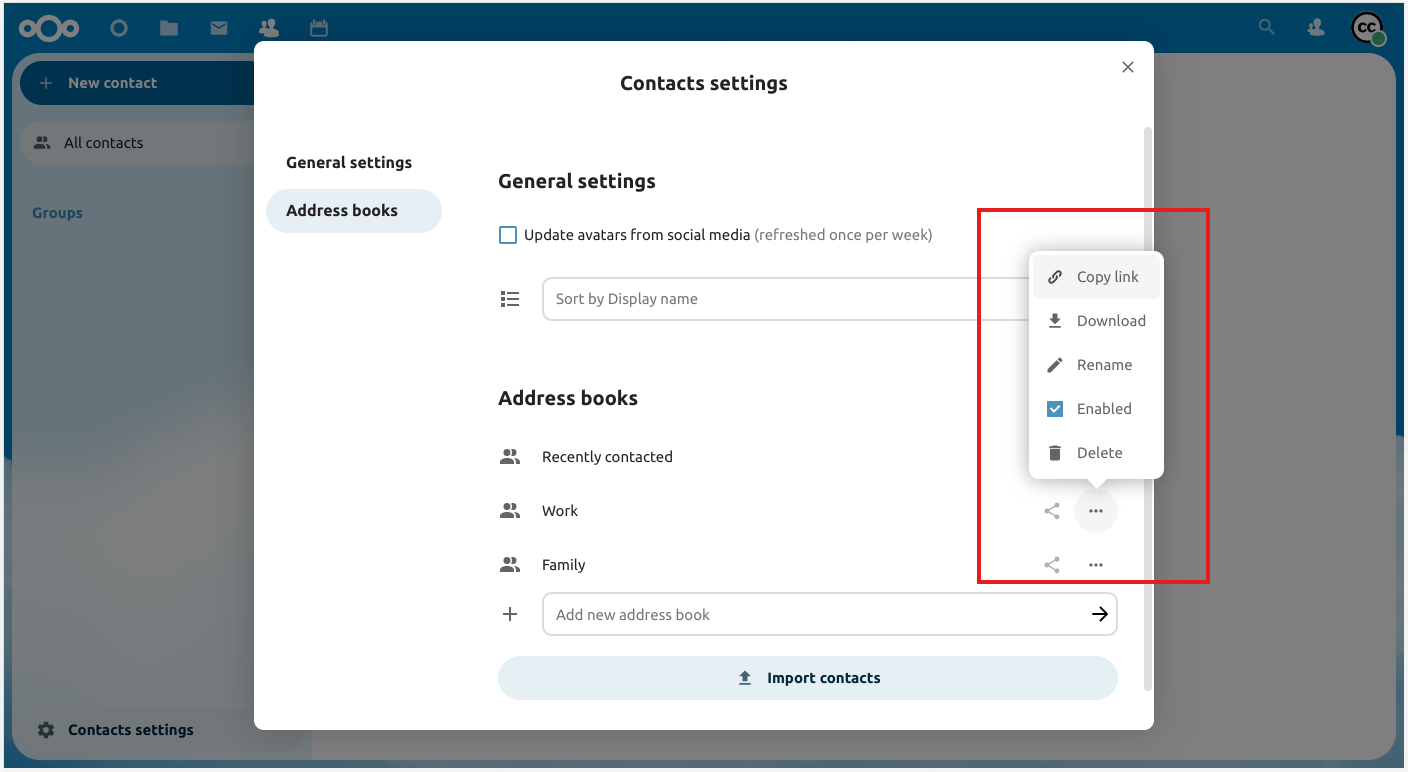 The Contacts settings is also where you can share, export and delete addressbooks. You will find the CardDAV URLs there.
Vedi Groupware per maggiori informazioni sulla sincronizzazione delle tue rubriche con iOS, macOS, Thunderbird e altri client CardDAV.
Circles
Informal collaboration takes place within organizations: an event to organize for a few weeks, a short ideation session between members from differents entities, workshops, a place to joke around and support team building, or simply in very organic organizations where formal structure is kept to a minimum.
For all these reasons, Nextcloud supports Circles, a feature embedded in the Contacts app, where every user is able to create its own circle, a user-defined aggregate of accounts. Circles can be used later on to share files and folders, added to Talk conversations, like a regular group.